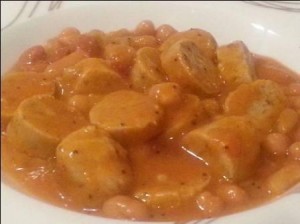 Step 1 :- Ingredients and recipe to prepare veg sausage: (please note these sausages can be cooked few days before and can be frozen)
1) Vital gluten wheat flour 1 cup
2) Nutrition yeast flakes
3) 1/4 soy powder (or garbanzo bean powder or mashed)
4) garlic powder (or garlic paste)
5) Italian herbs (basil, thyme, fennel powder, pepper, hot peprica, sweet paprika)
6) Onion powder
7) 1/4 cup of boiled mashed vegetable (carrot, croquette, peas, beans)
8 ) veg broth
9) soya sauce
10) Olive oil
11) salt to taste
Preparation:
a) take a cup of wheat flour in a bowl and add the 2 teaspoon of nutrition yeast flakes, a spoon of garlic powder, soy powder, herbs, salt, saya sauce a teaspoon (Remember the broth and the mashed vegetables must be cold). add the mashed veg, olive oil and broth and blend the mixture using ur fingers till its in a consistency of a chappati dough.
b) for steaming : take a hand full of mixture and roll it on silver foil and steam it for half hour.. u can use idly container of Chinese steamer.
c) for grilling: roll the mixture using some olive oil in ur palms and grill them for 15 minutes on medium heat.. make sure its turned time to time to cook evenly...
Step 2 :- Ingredients to prepare mixed bean spicy sauce :
Serves: 4
1) 1 large onion, finely chopped
2) 2 cloves garlic, finely chopped
3) 2 tablespoons olive oil
4) 3/4 (400g) tin mixed beans, drained and rinsed
5) 75g tomato puree
6) 4 tablespoons red wine vinegar
7) 1 tablespoons dried mixed herbs
100ml veg stock/chicken stock
9) sea salt to taste
10) chilli powder or paprika (for spice optional)
11) freshly ground black pepper to taste
Preparation:
a) Heat olive oil in a saucepan over medium-low heat. Add the onion, stir to coat with the oil. Cover with the lid and sweat the onion until transparent, stirring occasionally.
b) Add the garlic, saute for 30 seconds then add a 1/2 teaspoon of chilli powder or paprika and cook until the raw flavour is off. (spice is only optional)
c) Add mixed beans, stir and leave for 30 seconds to heat through.
d) Stir in tomato puree, mixed herbs, red wine vinegar and vegetable stock or chicken stock. Turn up heat and gently simmer for 15 minutes, covered. If the pan dries out, add a little hot water.
Step 3: -
Slice the steamed or the grilled sausages and add to the mixed bean sauce and cook for 30 seconds. Season with salt and black pepper, just before serving.