Learning is changing. And, we will see new models, new technologies and designs emerge. So, let's drop the "e" – or at least give it a new and wider definition
In this time of a global pandemic the world is trying to evolve as fast and as better as it can get from online groceries to online conferences everything is evolving, Not only these but education is also taking a leap with online learning platforms. And this E-Learning has made us think is this the future of education? Will, there be no books and everything would be online? Well, the answer is simple "yes".
E-Learning these days play a very important role in our daily lives. It allows users to take online classes using electronic devices such as computers, tablets, android phones. With the help of E-learning, users can take classes from all around the world. And is considered one of the most effective way of education. It could also help in the businesses; it reduces the travel cost. E-courses allow the users to learn at that time when it is not possible to step out of the house. These days as well online classes are playing a huge role in our lives
Well, E-Learning is a great way to remove all the educational boundaries from Universities to Schools anyone can learn from anywhere and everywhere.
But all the good things come with its own setbacks like it doesn't matter how great the teacher is teaching or how great the class was there is always a problem of coordination and doubt clearing, Yes there is a scope to record the class and watch it again but due to the lack of personal touch, it gets difficult for some students to understand things. On the other hand, online learning only provides us with a limited amount of information which might not clear the concepts properly It also leads to eye problems. Online classes couldn't even develop confidence in a child. In the world full of technology education should not be completed online. In the coming hundred years, E-learning would be the only thing students are going to do they won't be even aware of the school education.
No matter how many setbacks but everyone can agree that there is the freedom of movement and due to the presence of a friendly environment both Teachers and students are getting the best as they could.
FUTURE IMPACT OF E-LEARNING
Well, E-learning has a great future in fact E-learning is the new future gone are the days when children used to take heavy backpacks with books overfilled in them.In this digital age where there is a tremendous increase in the amount of the usage of the laptops and mobiles, E-learning could play a huge role. From education into the areas where schools are not able to provide up to the mark education or area's where schools are out of the reach, E-learning could be a boon there. New educational based start-ups are also focusing upon giving the students online classes rather than the traditional classroom classes and it is really helping everyone to develop themselves even the corporate workers who don't have time to go and sit in the classrooms for 2-3 hours. 
E-Learning in India
Online Education in developing countries like India is a great opportunity for the people to not only for basic education but also for developing themselves in a better way like learning new and valuable skills and overall development
E-learning for a secular country like India is a great way for the people from across the country to connect with each other and learn and connect together. Due to the lack of properly developed schools in rural areas currently, the literacy rate in India is at 74% and if the system of E-learning comes there is a very good chance that it can increase to a good number as the people of all the areas can interact and get the same education as the others.  E-learning in these Rural areas can be introduced on even the panchayat levels that are group classes for children in the areas covered by a panchayat.
Indian Government's recent initiatives such as SWAYAM, e-Basta, and Digital India is expected to strengthen the infrastructure needed by students to pursue an education in online mode.
 India does have a great chance to make the people aware of the great initiative of E-learning and bringing India one step closer to becoming a developed country.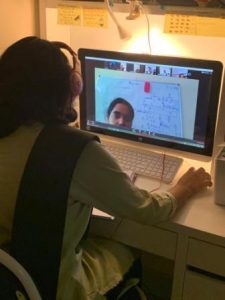 Kerala on E-Learning
The most literate state of India with a literacy rate of more than 90% is very much promoting this great E-learning initiative. Kerala has not only been promoting E-learning for children but also for  (Farmers) and giving them knowledge about the things to do to improve agricultural practices. And giving other states major goals to do the same. As a major aspect of the dispatch of Kerala's own e-learning portal, Keltron  & CDIT is  offering free fundamental computer training through online it also offers professional diploma, MS Office 2007 preparing, rudimentary English language structure preparing, communication skill improvement training, and other job oriented preparing programs through KeLearn.
Kerala is proving that Online learning is not very different from normal learning it's just learning in a more comfortable environment for maximum focus and maximum grasping. 
So we can very comfortably say that E-learning is one of the best things that can happen In the coming future and the world would know the power of E-learning once we start using it at its full potential. And then there would be no educational boundaries for anyone anywhere.