Cut and wash the fish and rub it with lemon juice and salt for 1/2 an hour. After that wash properly.
Grind coconut,tomato,ginger and garlic to a fine paste.Pour oil into a frying pan put mustard and curry leaves
,then add chopped onion till it turns golden brown.Add corriander powder,chilli powder & turmericpowder& sort it well.
Add the tomato, coconut paste to it and sort well,then add the tamarind paste and salt for taste. Put the fish into
it and cooked for 20min in low flame.Finally add the geera, fengreek rosted powder & serve.
Take all the ingredients and mix them well with the electric beater.
Preheat the oven at 180 degree celius for 15 - 20 minutes.
Grease the cake tin with 1 tsp refined oil. Dust it with 1 tbsp flour.
pout the cake mix into the cake tin and keep it  in microvave at convection for 40 - 50 minutes.cool the cake for atleast 30 - 45 minutes and serve.
Chicken Biriyani ( pressure cooker method)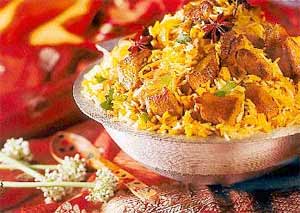 Ingredients:
chicken                      - 1 kg
Biriyani rice                - 1 kg
cinnamon                    - 1/2 stick
cardamom                   - 4 no
cloves                         -3 no
onion                         - 500 g
ghee                          - 250 g
green chilli                 - 100 g
ginger paste                - 50 g
garlic paste                  - 50 g
poppy seed paste        - 1 tsp
curd                           -1 cup
cashew nut                - 50 g
rasines                       - 50 g
corriender leaves         - 25 g
bay leaves                  - 1 no
mint leaves                 - 10g
curry leaves                - 2 no
lemon                         -1 no
garam masala powder  - 3 tsp
tomato                        - 100g
salt                            -
coriander powder         - 3 tsp
rose water                   - 1/2 tsp
Method
soak the rice 1/2 hour and drain.. Heat ghee in a non stick pan, put the crushed cinnamon,cardamom and cloves
.Then add the ginger, garlic paste and saute. Add chopped onion, green chilli and tomato turns golden brown. then add corriander powder, curd, poppy paste,garam masala and chicken.
Mix well and add salt to taste.Cover with a lid and cooked for 20 minutes. Remove chicken pieces to an another plate and drain the gravey to a sieve and keep it aside.
Heat ghee in cooker put crushed cloves, cardomom,and cinnamon. Then pour 3 glass boiled water and 1/2 glass gravy to cook the rice to the cooker.
Put cooked chicken and ,bay leaves,corriander leaves and salt for taste.
Let the rice cooked until 3 whistle.switch off the flame. allow the cooker to cool naturally.
fry casunut and rasines in a pan and finally to it.
Crush the ginger, garlic,and green chilli.