Students of  Sree Narayana College, Chempazhanthy got the opportunity to participate in a programme which became a memorable experience for them. Walk with a Scholar Programme, conducted by the college, in compliance with the orders from the Higher Education Council, offered a three day Theatre Workshop for students who had been selected for the programme. The workshop was conducted by well-known Women's Theatre group, Nireeksha, headed by Ms. Rajarajeswari Easwaran and Ms. Sudhi Devayani. The workshop began on 6 April 2015 and it was inaugurated by the Principal, Dr L Thulaseedharan.
Dr Aravind Thampi, Co-ordinator of Walk with a Scholar Programme at the college level opined: "Walk with a Scholar is a mentoring programme envisioned by the Higher Education Council and is aimed at offering support to First Year Degree students in colleges. This programme is very flexible and the college has the freedom to choose its modus operandi and we have chosen theatre work shop as one of our programmes. We understand that it will help our students to improve their personality and boost their confidence. We have several other innovative programmes for the coming years".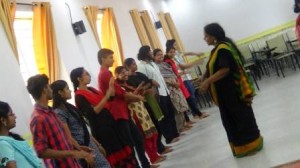 The work shop was led by Ms. Rajarajeswari Easwaran and Ms. Sudhi Devayani of NIreeksha Women's theatre group, based in Trivandrum. They had won accolades and critical acclaim for their women-centred works, Punarjani and Pravachaka. They were assisted by Ms. Aswathy in conducting the workshop. "Colleges should encourage setting up of Campus theatres. It will create a social awareness among students and equip them to respond to social issues in a creative manner. Moreover, theatre-based activities will help the students overcome their inhibitions and grow into responsible and confident adults". Ms. Rajarajeswari said.
The workshop proved to be a huge success with the whole-hearted participation by the students. They were surprised and later elated by the whole experience. Ms. Sujana Satyan, one of the participants couldn't control her joy. "I enjoyed the whole process thoroughly. This work shop has brought us all closer and we have grown immensely as individuals. The exercises and improvisations have made me stronger and I should thank Nireeksha for this".
At the valedictory ceremony, parents and guardians were invited to witness the performance of their wards. Participants performed before the audience and it was a brilliant performance indeed. "Students got only one day to prepare and they had to do everything including costumes, props, arrange the stage as well as learn dialogues and rehearse. I am happy with the outcome. They have done an excellent job", gushed Ms. Sudhi Devayani after the performance. Vysakh, one of the participants, heaved a sigh of relief after the performance. "This workshop has made me confident of my skills as a musician. I composed the background score for the performance and I am thrilled that everyone liked it".
The workshop came to a close with the promise of setting up a campus theatre in the college by the participants. Well begun is half done!